Sam Wyatt Personal Real Estate Corporation
We love to crunch the numbers!
Check out Blog articles: MONTHLY REAL ESTATE UPDATE and the Assignment of Contracts
HERE IS THE LIVE VANCOUVER REAL ESTATE WESTSIDE DETACHED HOME PRICE INDEX: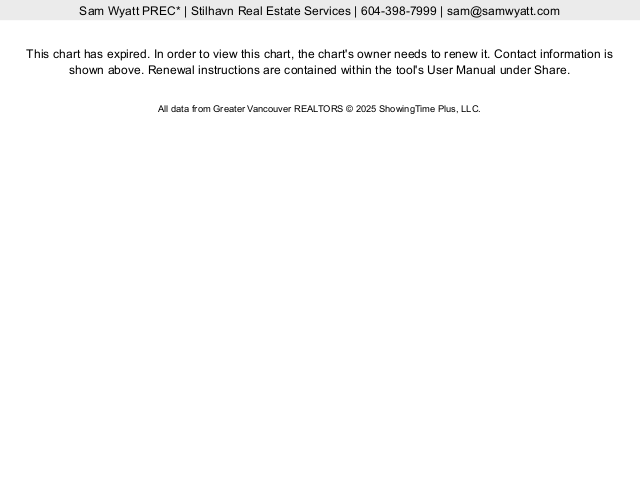 Sam Wyatt is a Vancouver REALTOR © specializing in Westside and downtown Vancouver properties and project marketing. We have the tenancity to exceed your expectations. Whether you are a devloper needing a marketing solution, a first time homebuyer, looking to sell your property, or an experienced investor, we can provide you with comprehensive real estate solutions.

Along with selling for individual owners we work for devolers to market new contruction homes. The new developments we most recently sold are THE WESTERLY, 24 refined apartments on Vancouver's prestigeous Westside and ALDER CROSSING, a boutique collection of 6 two and den and 6 studio townhomes in Fairview Slopes. Both developments by Guildford Brook Estates.

We also helped sell, restoration and new construction Gastown lofts for The Salient Group including: 'Garage', 'Paris Block' and 'The Terminus'; new construction '33 Living' Gastown lofts for Georgia Laine Developments; townhomes for Larc developents including: 'Boxwood Green' and 'Viridian Green'; the 'Tatlow Court' townhomes for Dalt Holdings and the 'Liberta' and 'Virtu' projects for Amacon Developments.
Please explore our website. Here you'll find resources to assist you with all your real estate needs. Check out our Links page for resources you need to buy or sell a home. You can search for current listings and receive detailed descriptions and photographs. Customize your search by area, price or property type. Thinking of selling your home? Complete our on-line submission form and get a free assesment of your homes value including recent sales figures of similar properties.
Each office independantly owned.
Sam Wyatt Personal Real Estate Corporation